• Commercial and Office Carpet Cleaning: carpet cleaning and upholstery cleaning for commercial accounts such as:
offices, restaurants, doctor clinics, hotels, theaters and churches.
• Window Treatments Cleaning: draperies, curtains, blinds, etc.
• Discount Carpet Cleaning is fully licensed, bonded, and insured for your protection.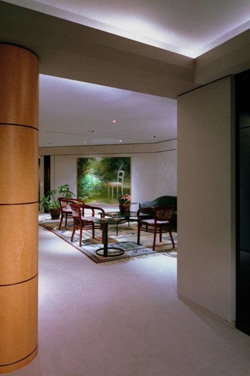 Maintain Your Image. Protect Your Investment with Office Carpet Cleaning in Central Florida
Businesses spend millions of dollars on carpeting, upholstery, leather, and oriental and area rugs. Poor maintenance can adversely affect that professional image, waste thousands of dollars in cleaning costs, and accelerate the need for a costly and time consuming replacement.
Discount Carpet Cleaning in Orlando understands the need to maintain a healthy indoor working environment, but also to extend the life of your expensive carpets, rugs, fabrics, and leather investments. Many offices, retail establishments, and other commercial areas count on Discount Carpet Cleaning in Orlando to provide solutions to their maintenance needs.
Why Choose Us
We understand how carpets and fabrics wear and stain and we know that there are many different types of fibers and textiles in the commercial and office environments.
Cleaning these fabrics requires state-of-the-art equipment designed to use the lowest possible amount of moisture. With faster drying times, your business can continue running with little or no disruption. Our carefully selected and screened, trustworthy, highly trained professional technicians provide your business with the most advanced carpet and upholstery cleaning methods available for your commercial carpets, rugs, fabrics, and leather in the Central Florida area.
Programmed Maintenance
Discount Carpet Cleaning of Orlando will carefully analyze your facility and customize a program that makes your carpeting, rugs, upholstery, and leather look cleaner, last longer, and stay healthier. Then, our professionals will provide these services to you at your convenience.
Call us today for your free quote: 407-617-3411
Best Commercial Office Carpet Cleaning in Orlando, FL
Best Commercial Carpet Cleaning Service in Orlando, FL
Commercial Office Carpet and Floor Care in Orlando, FL
Commercial Carpet Care in Orlando, FL
Commercial Carpet Cleaner in Orlando, FL
Commercial Carpet Cleaner Company in Orlando, FL
Commercial Carpet Cleaners in Orlando, FL
Commercial Carpet Cleaning in Orlando, FL
Commercial Carpet Cleaning Company in Orlando, FL
Commercial Carpet Cleaning Professional in Orlando, FL
Commercial Carpet Cleaning Service in Orlando, FL
Commercial Carpet Cleaning Services in Orlando, FL
Commercial Carpet Dry Cleaners in Orlando, FL
Commercial Carpet Dry Cleaning in Orlando, FL
Commercial Carpet Shampooers in Orlando, FL
Commercial Carpet Stain Removal in Orlando, FL
Commercial Carpet Stain Remover in Fresno, CA
Commercial Carpet Stains Cleaning in Orlando, FL
Commercial Carpet Steam Cleaner in Orlando, FL
Commercial Carpet Steam Cleaning in Orlando, FL
Chem-Dry Commercial Carpet Cleaning in Orlando, FL
Commercial Floor Cleaner in Orlando, FL
Commercial Floor Cleaners in Orlando, FL
Commercial Floor Cleaning in Orlando, FL
Professional Commercial Carpet Cleaning in Orlando, FL
Quality Commercial Carpet Care in Orlando, FL
Commercial Carpet Cleaning in Orlando, FL
Commercial Steam Cleaning in Orlando, FL
Office Carpet Cleaning: Our Service Area.
Serving the following cities in Florida:
Commerical Carpet Cleaning Winter Park, FL (Florida)
Commerical Carpet Cleaning Longwood, FL (Florida)
Commerical Carpet Cleaning Winter Springs, FL (Florida)
Commerical Carpet Cleaning Orlando, FL (Florida)
Commercial Carpet Cleaning Fern Park, FL (Florida)